About the Holding
Eurasian Foods Corporation Holding is one of the leading and most important food enterprises in the Republic of Kazakhstan and Central Asia, a recognized leader of the republic among manufacturers of fat-and-oil products that meet the highest international standards, with a production volume of more than 140 000 tons per year.
The Holding consists of two largest food enterprises of the Republic of Kazakhstan: Eurasian Foods Corporation JSC, Almaty and Eurasian Foods JSC, Karaganda.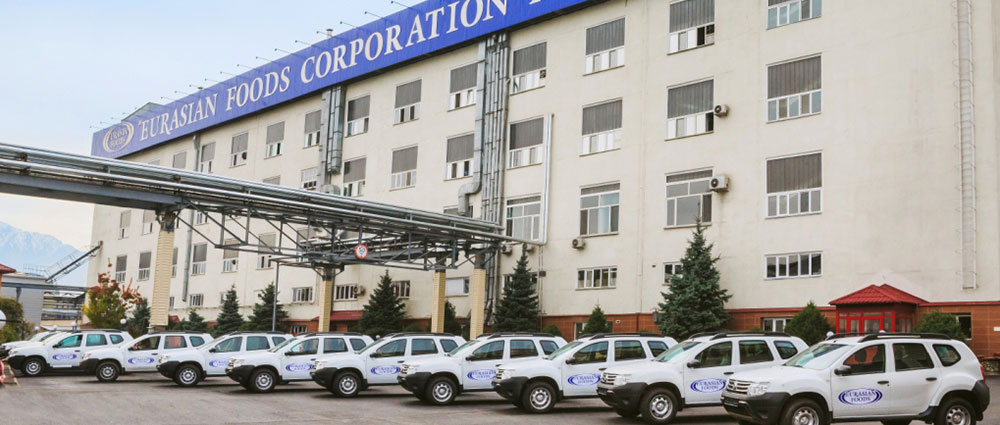 Location of production area: Republic of Kazakhstan, Almaty, central part of the city.
Total area is 4,21 hectares including production area of 0.916 ha. The company has all the necessary energy infrastructure and communications including its own high-voltage power distribution substation, gas boiler house and wells for the extraction of water. The factory has its own railway siding, rail tank cars and refrigerator cars in order to ensure the transportation.
Tanks for the storage of raw oil is 4 600 tons.
Warehouse area of ​​the factory and the branch network:
- refrigerated warehouses – 17 289 m²;
- dry warehouses - 13 047 m².
Car fleet of the company has about 380 specialized vehicles equipped with refrigerators for the delivery of products to retail outlets.
Number of employees is 1 904 persons including:
- workers and employees - 587 people;
- trading team - 1 317 people.