Shedevr TM Oil with high content of Vitamin E and free of cholesterol is perfect for diet and baby nutrition. Oil has the perfect consumer appeal thereby Shedevr TM oil is the unrivalled leader in its market segment over the years.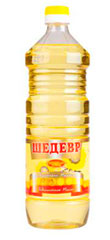 Vegetable Oil
Vegetable Oil is produced by high-technology equipment using natural selected raw materials. Transparent, light gold, without taste and smell oil has high natural content of vitamin E and polysaturated fatty acids. Production process includes 5 stages of refining. Due to absence of admixtures oil does not foam and burn during frying.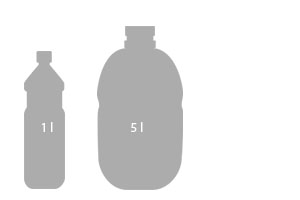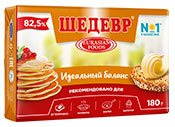 shedevr 82,5%
Spread with 82.5% fat content is perfectly balanced! The product has a delicate creamy flavor and aroma. It is recommended for making the sandwiches, dressing the side dishes and porridges, kneading the different types of dough and for butter cream making.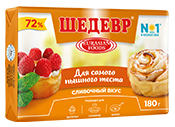 shedevr 72%
Spread with 72% fat content is the multi-purpose product! It can be used both at home and in the public catering network. This spread is perfect for frying, stewing and baking. It gives a pleasant flavor, nice color to the ready-made dishes as well as forms the delicious golden crust.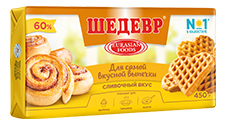 shedevr 60%
Spread with 60% fat content is for the most delicious pastries! The product is ideal for baking and frying, as well as for making porridges, various vegetable and fruit purees and side dishes. The reduced fat content and balanced composition makes this spread indispensable in daily use in the kitchen.