NEWS
HOT-DOG COOKING CONTEST IN OMSK
For the birthday of Omsk city (Russia) on the 3rd of August an unusual culinary competition was held – the hot dog cooking contest. The event was organized by 3 Zhelaniya TM which produces the wide range of beloved not only by all Kazakhstani, but also Omsk's citizens goods such as: mayonnaise, ketchups, sauces and spices.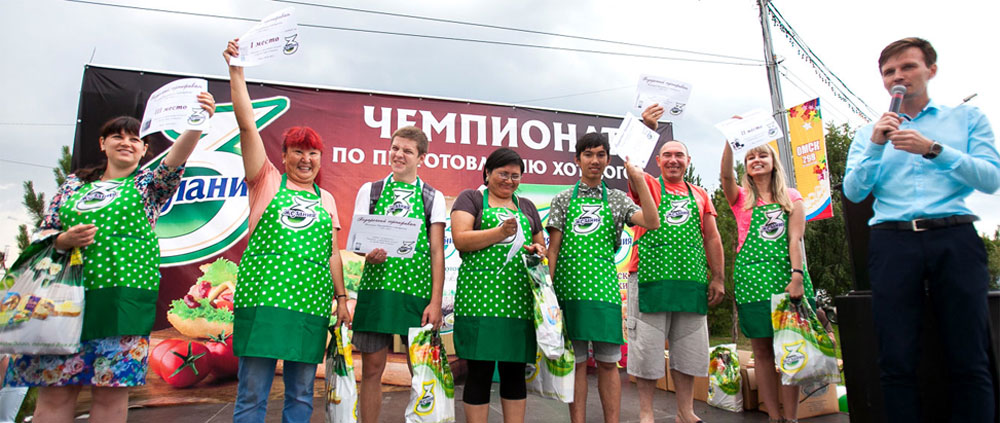 To try their hand could around 50 volunteers selected randomly and seven of them got valuable prizes from the organizer: for the first place is refrigerator, for the second is multicooker, for the third is kitchen machine, and the other four finalists got blenders.
The task was as follows: the participants should cook 30 hot dogs using mayonnaise, ketchup and mustard of 3 Zhelaniya TM and put them on the plates handsomely. Professional chefs acting as the stern judges evaluated the work by three criteria: speed, aesthetics of each dish and cleanness of the table. After each round the finished hot dogs were distributed among the audience for free.
Besides fiery culinary show, it would be organized a varied festive program for audience. A popular group from Omsk "Collection of Butterflies" performed on the stage, the audience took part in various contests with delicious prizes from 3 Zhelaniya TM, animators with fun games and contests, also free French fries with delectable ketchup of 3 Zhelaniya TM would be organized for kids.
Names and photos of winners
I place

Olhovskaya

Dina Aubakirovna

II place

Tribucina

Taisiya Anatolievna

III place

Bessmertnaya

Olga Aleksandrovna

IV place

Poltavskii

Aleksandr

IV place

Bizhigitova

Aigul Karabaltovna

IV place

Hasanshin

Vadim Ravilievich

IV place

Bainuhambetov

Daulet Serikovich
« Back