NEWS
Technologists of Eurasian Foods Corporation JSC visited the leading companies of Germany
On November 12-18, 2017 the specialists of Eurasian Foods Corporation took part in the training tour of the German companies for production of vegetable oil organized by «KAZAKH INVEST» National Company» JSC.
As a part of the training tour, the participants visited and familiarized themselves with the operation of the most significant and advanced enterprises of Germany for the production of vegetable and linseed oil, processing of rape, oil extraction plant, as well as Holding that manufactures equipment and maintenance of production plants.
The technologists of Eurasian Foods Corporation adopted the best practices, improved and increased their knowledge regarding the process engineering and operation of production as a whole.
The experience and knowledge acquired within the training tour will help the specialists of Eurasian Foods Corporation JSC to adopt the advanced and innovative technologies into the production processes of the plant, which continually increase the quality of products produced by Eurasian Foods Corporation JSC.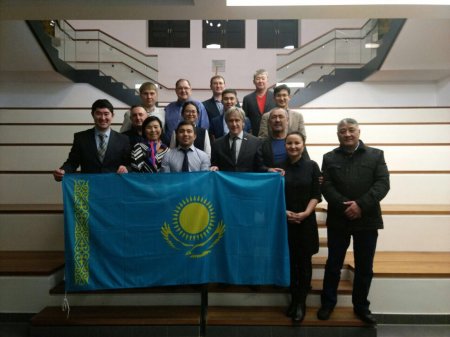 Meeting of the participants with vice-burgomaster of Magdeburg Mr. Rainer Nitsche
« Back