NEWS
Eurasian Foods Corporation JSC is the winner of "Choice of the year - 2017"
The 18th annual awarding ceremony of the finalists of the festival competition "Choice of the Year No. 1 in Kazakhstan" was held on November 13, 2017 where the best goods and services were announced according to the results of 2017.
The main and honorary award "Producer of fat-and-oil products N1 in Kazakshtan - 2017" was traditionally awarded the plant of Eurasian Foods Corporation Holding which once again confirmed the status of the most consummate producer in this sector.
According to the independent research, the company is steadily ahead of its competitors setting high standards of the work. The produced products are the leaders in terms of awareness and loyalty of the consumers that are the most significant awards. The gold medal "Choice of the year" is another confirmation of that fact!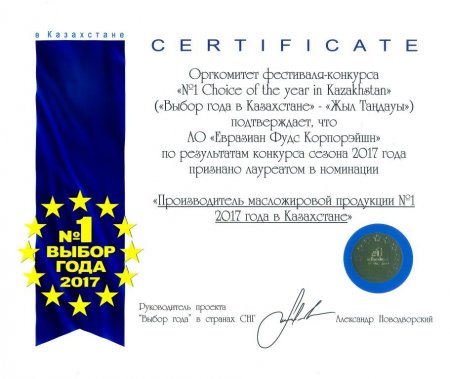 « Back