NEWS
Eurasian Foods Corporation Holding congratulates Kazakhstani people on Victory day
On May 09, the solemn events related to the Victory Day were held throughout the Republic of Kazakhstan. Eurasian Foods Corporation jointly with the whole country celebrated the 72nd anniversary of the Great Victory Day and took the active part in the solemnities.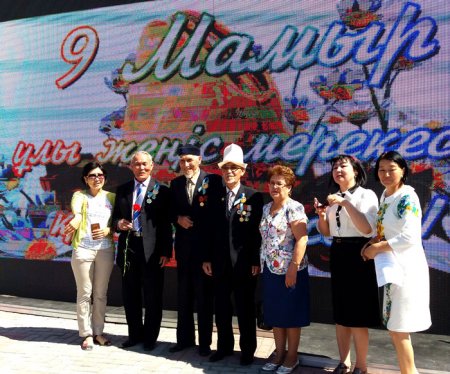 Children, grandchildren and great grandchildren of the participants of the Great Patriotic War took part in the Memorial March this great day. The military musical performance and the exhibition of fighting equipment were organized in parks.
With the support of the Company, the veterans of the war were honored with soldiers' porridge and battlefield "one hundred grams" to the strains of the war songs. They thought of old times, the killed friends and were pleased with peace and unity in the country.
Over 1500 participants of the Great Patriotic War received the food package from the Company. The employees personally congratulated the participants on the holiday having wished good health and longevity.
"Dear participants of the Great Patriotic War and war workers, the employees of the Holding heartily congratulate you on the holiday! We will honor your feat perennially and keep memory of those who never returned from the fields of battle having defended for us the right to live, work, be parent and happy through great effort. We must be worthy of the memory of war heroes, continue the traditions of the senior generations for which the welfare and security of the Motherland have always been the highest meaning. In the name of the memory of our grandfathers, great grandfathers and future of our children, we will do everything possible to keep the peace in the world. Wish you good health, hats off to you!"
« Back