NEWS
WINNERS OF FESTIVAL COMPETITION 'THE NO. 1 CHOICE IN KAZAKHSTAN 2015' ARE ANNOUNCED
On November 30, 2015, the 16th annual awarding ceremony was held in Almaty for festival competition 'The No. 1 Choice in Kazakhstan', where the best services and goods of Kazakhstan were chosen according to the results of the year 2015.
The all-time leaders of the appropriate categories became 3 Zhelaniya and Shedevr brands. Provansal mayonnaise and Shedevr oil were recognized as the No. 1 choice in Kazakhstan, and were awarded honorary golden medals 'The Choice of the Year'.
The main and most honorary award 'The No. 1 producer of oil-and-fat products in Kazakhstan' was also given to Eurasian Foods Corporation JSC, which again confirmed its status of the most authoritative producer in the industry.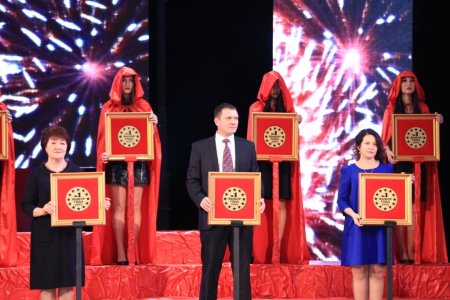 « Back